White Gull Creek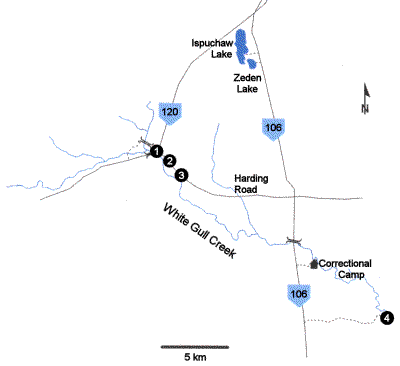 White Gull Creek is formed by the waters of two tributary streams near the southwestern boundary of Narrow Hills Provincial Park. The creek flows southeasterly for 150 kilometres to join the Torch River before eventually flowing into the Cumberland Delta of the Saskatchewan River. Open jack pine stands dominate the creek's upper reaches together with poplar, spruce and willow along the stream banks.

Brook trout were first introduced to the stream in 1949. This and subsequent plantings were successful in establishing a self-sustaining population of brook trout in the stream. White Gull Creek continues to be stocked hi-annually to supplement the stream's naturalized population. The stream regularly surrenders 25 to 30 centimetre trout, but fish up to 35 centimetres are occasionally taken. Spinners and small spoons are effective in angling the pools and deep runs of this creek as is drift fishing with live bait. Stonefly patterns in the riffle-run areas and caddis fly and dragonfly imitations in the deeper runs or pools can be very effective for fly fishermen. White Gull Creek is located 37 kilometres northeast of the Candle Lake turn-off on Highway #120. The highway crosses the creek and there is good fishing both upstream and downstream of this bridge crossing. The creek can be accessed downstream of this crossing via the Harding Road or upstream via two ATV trails. Both the Harding Road and the ATV trails parallel the creek.

Access 1: ATV trail begins just north of the #120 bridge crossing. The trail travels northwesterly along a cut-over for one kilometre before ending near a trapper's cabin. A short distance to the south of the cabin site is the old Highway #120 bridge crossing. Angle both above and below this crossing.

Another tributary to the stream can be accessed by proceeding westerly along the old Highway #120 from the above crossing for a distance of approximately one kilometre. Turn and follow the first trail southward approximately 150 metres to arrive at the stream.

Note: These trails are often passable with light trucks in dry weather conditions. Do not attempt to cross the old Highway #120 bridge with a vehicle as it is unsafe to all but foot and ATV traffic.

Access 2: Just north of the current Highway #120 bridge is the Harding Road. Travel 1.0 kilometre southeasterly on this road. There is a drive-in access trail to the ~south of this point. Keep left on this trail for approximately 1.5 kilometres to a parking area. Follow the walking trail for a distance of approximately 150 metres to the stream.

Access 3: Travel 3.6 kilometres southeast on the Harding Road from Highway #120 to arrive at the trailhead. Follow this trail 1.3 kilometres. The trail is narrow and ends at a parking area 300 metres from the stream.

Trucks and ATVs are recommended for these bush access trails.
site map and site search