Webmaster's Walleye and Pike Recipes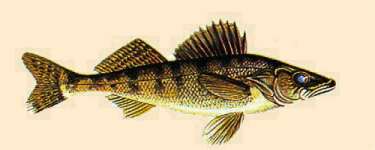 Fried Walleye with Garlic Butter
Ingredients
2 lbs walleye fillets
2 eggs, well beaten
3 garlic cloves
pepper
salt
flour
cracker crumbs
cooking oil
1/4 lb. butter
Directions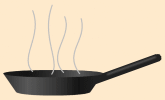 Season fish with salt and pepper and dredge in flour, shaking off excess. Place beaten eggs in a pie plate. Put crumbs in a pie plate or on waxed paper. Dip the fish first in egg, then roll in crumbs. Heat the oil in a heavy skillet and fry until the fish tests done and is golden brown. Remove to a warm platter. Place the butter in the same skillet, add garlic and cook until golden. Pour over the fish. Serves 6.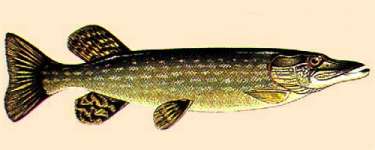 Saskatchewan Lobster
Ingredients
1 lb. pike fillets
4 T. salt
1/2 cup butter
1 tsp. garlic powder
1 tsp. onion powder
Directions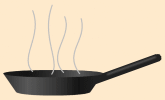 Debone pike fillets and cut into bite-size pieces. Add 2 tablespoons salt to enough water to cover fish. Soak fish in salted water for about 2 hours. Drain off this water, add remaining salt and more water to cover. Bring to a boil and cook until fish turns white. In separate pan, melt the butter (do not boil) then add garlic and onion powder to taste. Dip cooked fish pieces in garlic butter as you would lobster. Enjoy!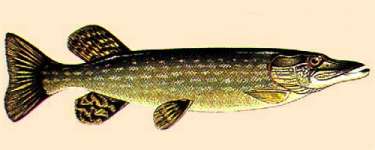 Greek Style Fish With Rice
Ingredients
1 cup rice
2 teaspoons salt
1 lb. defrosted fish
2 tablespoons lemon juice
pepper
2 cups boiling water
1 tablespoon margarine
½ cup miracle whip
1 tablespoon dried parsley
Directions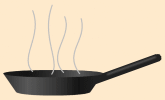 Set oven at 350 degrees. Put rice in casserole, add boiling water. Add 1 teaspoon salt, 1 tablespoon margarine, stir. Put lid on casserole and put in oven for 40 minutes.

Meanwhile, put 1 lb. of defrosted fish in another casserole dish. Mix together ½ cup Miracle Whip, 2 tablespoons lemon juice, 1 teaspoon salt, pepper, and one tablespoon dried parsley. Spread the mixture over the fish, cover, and cook at 350 degrees for 20 minutes.
site map and site search