Nipekamew Creek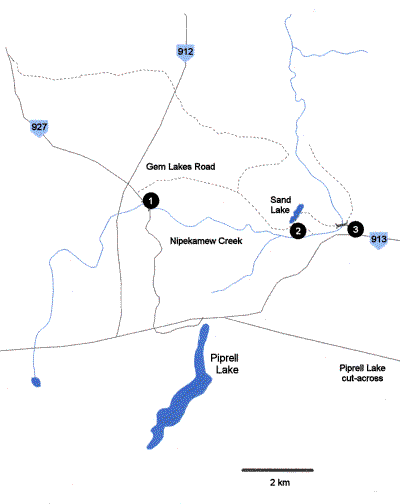 Nipekamew Creek has been stocked with brook trout fingerlings since 1954. A biannual stocking program continues to supplement the creek's naturalized population. Pan-sized brookies of between 20 to 25 centimetres are most frequently reported, but occasionally 30 centimetres fish are taken. Anglers: work the beaver ponds with brightly coloured spoons and spinners or drift the slow runs with a float and live bait. Stick-caddis imitations and dragonfly nymphs are effective for fly-fishermen as are beetle patterns in late summer or early fall. Commonly, the creek is tightly bordered by thick willow, so fly-fishing may be limited to dapping through many reaches.

Access I: Travel northeasterly from Candle Lake on Highway #120 approximately 16 kilometres until you reach the junction with the #913 Grid. Turn north and travel 33 kilometres to the #913 / #912 junction. Turn left and proceed northerly on the #912 Grid approximately 4.5 kilometres to the junction of the East Trout Lake road (#927) and the #912 Grid. Turn south on the un-numbered grid and proceed two kilometres until you reach a bridge crossing of the creek. These reaches are commonly dammed by beavers. The flooded beaver ponds can hold good numbers of fish but foot access along the stream bank is difficult.

Access 2: From the junction of the East Trout Lake road (#927) and the #912 Grid, travel south on the un-numbered grid approximately 700 metres to the Sand/Gem Lakes turnoff. Proceed 4.6 kilometres east on the Gem Lake Road. Approximately 200 metres west of the Sand Lake parking area is the stream access trailhead. The first 200 metres of this trail are accessible to truck or ATV traffic. From this point, follow the walking trail along the cut-over for approximately another 400 metres to the creek. Through these reaches the stream gradient is higher, lending itself to riffle-run sequences.

Access 3: From Sand Lake, continue easterly approximately two kilometres until you reach a bridge crossing. Stream bank access is challenging through these sections of the creek as they are often backflooded due to beaver dams. Such ponds often hold the largest fish.
site map and site search