McDougal Creek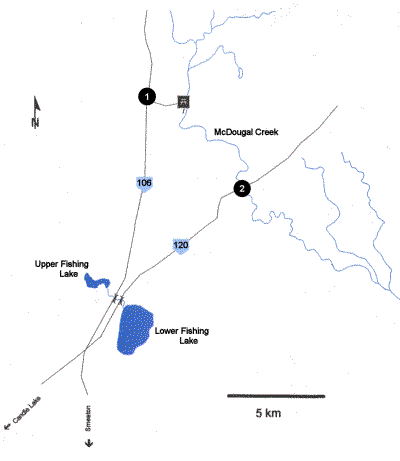 The headwaters of McDougal Creek originate in the Cub Hills to the south and east of Little Bear Lake. The creek flows southeasterly for approximately 130 kilometres before joining the Mossy River. Continuing easterly, the stream eventually flows into the Cumberland Delta of the Saskatchewan River.

McDougal Creek was first stocked with brook trout in 1934. Further stockings in the 1950s and 60s established a healthy, self-sustaining population. The last stocking of McDougal Creek took place in 1969. The creek's swiftly flowing waters, numerous deep pools, undercut banks and moderate temperature regime offer excellent trout habitat. Pan-size brook trout of 20 to 30 centimetres are commonly reported by anglers, but larger fish of up to 40 centimetres are occasionally taken. The larger trout most typically inhabit the stream's deeper pools and beaver ponds. Small spoons, spinners and live bait are the most popular angling techniques on this stream. Fly fishermen may often be limited to dapping their flies along the surface as the forest canopy along the stream is fairly tight. Short casts are possible in pool areas. Stonefly nymph patterns are particularly effective.

Access 1: Travel 14.5 kilometres north on Highway #106 from the junction of Highways #120 and #106. Turn at the McDougal Creek sign and travel east for two kilometres. This road terminates at a picnic area and the creek is only a short walk down from there. The first two kilometres upstream and several kilometres downstream from this picnic site hold the majority of fish. There are walking trails along the stream that provide good foot access. Stream blockages due to beaver activity may backflood areas along the creek so pack appropriate footwear if planning to use these walking trails.

Access 2: The creek can also be accessed from Highway #120. From the #1201#106 junction, travel 12.7 kilometres north to the stream crossing. There is a good population of fish both above and below the culvert crossing.
site map and site search