Lost Echo Creek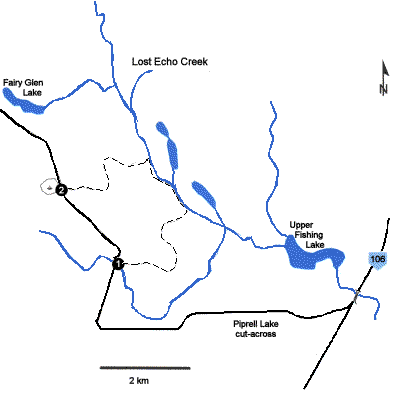 Lost Echo Creek originates from the outflow waters of Lost Echo Lake. The creek flows southeasterly approximately 12 kilometres before discharging into Upper Fishing Lake. From Upper Fishing Lake, these same waters continue downstream through Lower Fishing Lake, Stewart Creek, and the Torch River before eventually flowing into the Cumberland Delta. Much of the upper watershed was burned-over in the Fishing Lakes Fire of 1977 and a thick growth of jack pine now dominates much of the area.

The creek has been managed for brook trout since 1934 and presently sustains a good population of naturalized trout. Lost Echo Creek is well suited for brook trout. It is a small, sinuous stream with abundant overhead and in-stream cover as well as a suitable flow and temperature regime. Pan-sized brookies of 20 to 25 centimetres are fairly common but occasionally brook trout of lengths up to 30 centimetres are taken. Common angling techniques include casting small, brightly coloured spinners and spoons or drifting current seams or the deeper pools and beaver ponds with a float and live bait. Fly fishermen: stoneflies are generally the most abundant aquatic macro-invertebrate present in Lost Echo Creek. Dapping fly patterns that mimic the nymphal or adult stage of this insect under overhanging vegetation or past undercut banks should yield fish. Try dragonfly patterns in the slower moving pools.

Access 1: From the Highway #120/#106 junction, travel two kilometres north on Highway #106 to the Piprell Lake cut-across road. Turn west and proceed approximately seven kilometres until reaching a culverted crossing of a feeder creek. Just beyond this culvert crossing is the trailhead. Proceed northeasterly on this trail for a distance of 3.2 kilometres. The trail ends at the creek. Several spur trails lead off of the main trail- stay on the main trail. The first 2.5 kilometres of this trail is narrow and rough in several places but is generally passable to half-ton traffic during dry conditions. Beyond this point, ATV or foot traffic is recommended.

Access 2: This trail is located 2.5 kilometers northwest of Access 1. The trailhead is located immediately across the road from an open muskeg. This trail is narrow and rocky in several areas, traveling for 3.2 kilometres before terminating approximately 100 metres from the stream at an old ATV bridge crossing. Use a truck or ATV for trail travel during wet conditions. There is a good walking trail along the west bank of the stream between Access 1 and 2.

Alternate Route: Travel 2.9 kilometres east of Piprell Lake. Turn south on the Piprell Lake cut-across road and travel 2.9 kilometres to the Fairy Glen Lake sign. The turn-off to Access 2 trail is 1.9 kilometres southeast of the Fairy Glen Lake sign and the Access I trail is 4.4 kilometres southeast of the Fairy Glen Lake sign.
site map and site search